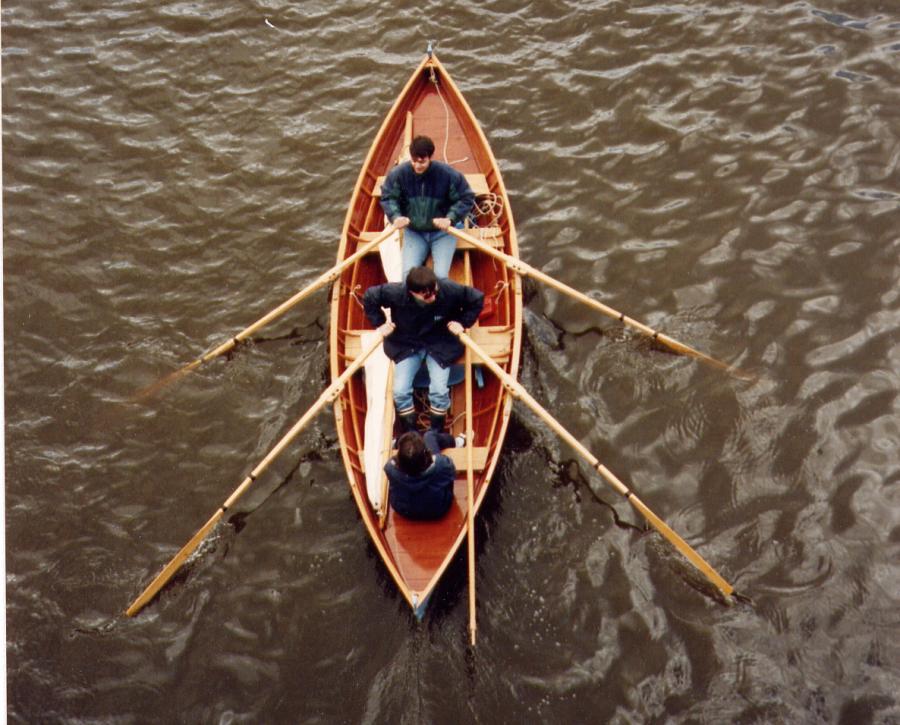 Last Saturday I went to the AGM of the Dinghy Cruising Association, held at Warsash Sailing Club on the mouth of the Hamble. Noted French boat designer
Francois Vivier
gave a lecture and fascinating it was.
Vivier was preaching to the converted, of course. Many DCA members sail his boats, including the president. And no fewer than three of those present want to build one, all coincidentally focusing on the Morbic 12, a 'sail and oar' boat. The one pictured right was made by Adrian Donovan, and one can see exactly why the others want one for themselves.
However, all the would-be builders are sailors rather than rowers, and I wouldn't really class the Morbic 12 as a row/sail boat even though it undoubtedly rows pretty well.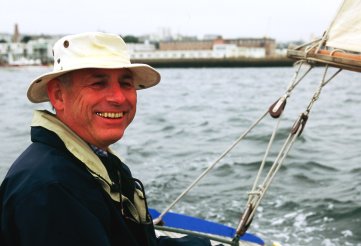 I would like something longer and slippier, such as Vivier's Elorn (top of post). He said it is a combination of a Norwegian faering and an American peapod, with seaworthiness a main aim. She can be built as a pure rowing boat without centreboard, rig or rudder, but I think it would be a shame to lose the versatility of having the rig to keep you going when you want a rest and a brew.
I really liked Vivier's message that sail and oar forms a great combination of modes of propulsion so you can leave the beastly infernal combustion engine at home.
Vivier also discussed the vexed topic of plywood. Many builders are looking at alternatives to mahogany-faced boards ('gaboon' or 'okume') in view of recent well-aired quality issues. Vivier explained that African countries are now insisting that the veneers be cut from the log in the country of origin, rather than being shipped abroad and cut there. Quality has gone shooting downhill as a result.
Birch is an emerging alternative. Birch is grown in sustainable forests in Scandinavia and cut into veneers by conscientious and hard-working Finns, so quality is high. The only drawback, Vivier said, is that birch is not regarded as particularly highly rot-resistant.
However, Vivier was of the opinion that birch suffered because the wrong tests are applied, so he did some of his own involving dangling test pieces half in and half out of seawater for periods of months. Apparently it passed with flying colours.
The other drawback is that birch is up to 30 per cent heavier than gaboon. But I will certainly be considering birch for my punt project.